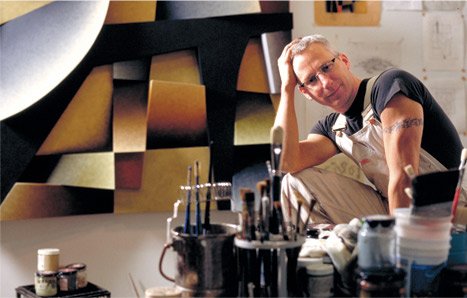 I create steel constructions that blur the lines between painting and sculpture while exploring the interplay of line and volume. Gradations of applied color exaggerate the projections and angles of the geometric planes while visible brush strokes humanize and soften the steel surface.
With modernism as a starting point, my art is a more contemporary rendering that welds together elements of cubism, constructivism & minimalism.
After graduating from design school in Chicago I found myself again yearning to explore the artistic opportunities afforded by steel that I had first experienced when I learned to weld at age 18 during an apprenticeship in Mississippi.
Ranging in height from 17 inches to nearly 7 feet and with depths as great as 12 inches, I have created work in a variety of sizes to examine the affect scale has on my explorations of plane and volume.
I hope to continue to blur the barrier between 2 dimensional painting and the third dimension. And explore the variety of experiences that movement in front of a piece allows – as volumes and angles disconnect and re-connect as viewing perspectives change.